Never heard of "Sweetest Day"? Neither had most of us. It was an idea that came up at our Eastern Region Revitalization Conference this past Spring.
"Sweetest Day" was first proposed in 1922 by a committee of 12 candymakers in Cleveland, OH. On that first "Sweetest Day", the committee distributed over 20,000 boxes of candy to newsboys, orphans, old folks, and the poor in Cleveland. They were assisted in the distribution of candy by some of the biggest movie stars of the day. "Sweetest Day" is a holiday celebrated in the Midwest, and parts of the Northeast, on the third Saturday in October. So, if you've never heard of it, you are not alone.
Dr. Leins introduced the idea of a Father/Daughter dance, and we thought this might be the perfect time to try it. So, our "Sweetest Day" Father/Daughter Dance came into being.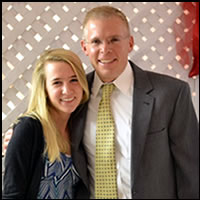 In our very sexually oriented world many of the common courtesies and respectful attitudes have fallen aside. We felt it important to have an event where we could show girls and young women the kind of consideration and respect they should expect from the men in their lives.
On October 18th we invited fathers and daughters, grandfathers and granddaughters, or simply an adult male that had a caring and mentoring relationship with a girl or unmarried young lady to share an evening beginning with a buffet dinner, some entertainment, and a bit of dancing.