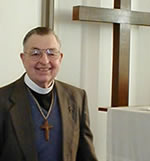 Pastor Irvin Stapf
Our day is marked by moral relativism, political correctness, and too often, lukewarm
Christianity. In the midst of it all we are busy people trying to make a living, and do the best we can for our families.
The church is not just one more organization vying for our time and money. It is the one place that declares there is hope, strength, and direction for life. The Church has been given the greatest treasure possible, the Good News of our Lord Jesus Christ, and has been charged to share that treasure with as many people as possible.
In Jesus we find strength for the needs of each day, real joy in knowing Him, and a solid hope for the future.
At Christ Lutheran we would like to share that message with you, and not only in words of a sermon, but in lives that would like to know you and help you in any ways we can.
Please look over the pages of our web site, and come visit us. You are most welcome.