Good Morning!
September 18, 2018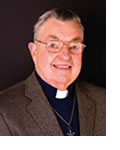 There is a difference between a mirror and a photograph. They both show an image, but a photo can be touched up to make the subject look good. A mirror shows it like it is. At the Tabernacle, the Old Testament Jewish worship center, there was a bronze basin in which the priests would wash before going into the Holy Place of the sanctuary. To make that basin they collected the highly polished bronze mirrors of the ladies, and shaped them into a large bowl. This basin is symbolic of God's Word, the Holy Scriptures. When we read the Bible it shows fallen human life as it is with all of its warts and blemishes. It shows us our own life with all of its failures and sins. While the bronze bowl of God's Word shows us just as we are, it also holds the water for our cleansing. We are washed in the redemptive waters of our baptism, made clean, and able to walk into the presence of God. In Jesus Christ we are made new, not just touched up. God now sees us through the righteousness of Christ. "It is by grace you have been saved, through faith--and this is not from yourselves, it is the gift of God..."(Ephesians 2:8) And we can only bow in humble worship.

Pastor Irvin Stapf
• Click here to watch or listen to Pastor Stapf's sermons
• Visit Pastor Stapf's blog here
---
A collection of Pastor Stapf's reflections has been published in . . .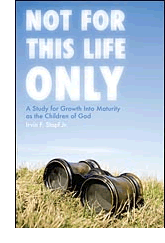 Not For This Life Only
A Study for Growth Into Maturity
as the Children of God
by Irvin F. Stapf , Jr.
"'What is your purpose in life?' Do you know where to begin in answering this question? If you are searching for a deeper purpose , Not for This Life Only will give you solid biblical truths to help you discover God's plan for you.
This insightful study will establish a firm biblical foundation as you prayerfully seek God's calling for your life. Through all of the circumstances of life, God is seeking to help us grow into Christ's example of sacrificial love. As a topic that can conjure up confusion, discover that God is not silent when it comes to the life he has called you to live.
Irvin Stapf weaves together common concerns such as purpose, family, suffering, and making mistakes and points them toward the focus and purpose in your life. Now is the time to start finding the answer to the question, 'What is your purpose in life?'
Irvin Stapf has been an ordained Lutheran pastor for thirty-eight years and is the Regional Pastor for the Eastern Region of the American Association of Lutheran Churches. Irvin, and his wife, Audrey, have been married for forty-three years and have five children. They currently reside in Mount Airy, Maryland."
148 pages - $11.99 (plus $3.00 S&H)

The book is published by Tate Publishing of Mustang,Oklahoma and can be obtained by going to the Tate website, or from the author at Christ Lutheran Church, 13903 Legion Court, Mount Airy, MD 21771.
The book can also be obtained through major book stores.
Copyright 2009